Pandora Fashion Ring Stylist
The uniqueness of a perfect mix, you and your style.
The launch of the Pandora ring collection through a personalized digital experience,
a web contest to show your style and win fame in fashion magazines and your favourite ring mix.
Scouting fashion trends
Catching the growing fashion trend of wearing a combination of rings is fundamental to accessorize your look. Pandora Fashion Ring Style was born as an advertising campaign that focuses on teenagers' abilities to create the perfect look between outfit and rings in a "selfie".
Digital recruitment
For Pandora fans, the official facebook page has a call to action in a dedicated tab, while a specific banner campaign promotes brand activity on a dedicated micro-site to a greater target recruited by the best fashion blogs and websites.
A special partnership
Four special occasions introduced Gioia, an Italian fashion magazine in a unique partnership to inspire young girls to enter the contest and to celebrate the best one as an official Pandora testimonial in a magazine photoshoot experience.
As easy as taking a selfie
A fully responsive platform lets the girls access the contest with an immediate Facebook log-in, an integrated mobile photoshoot and editor system collects the pictures and a visual configurator lets you browse the entire ring collection to match your style.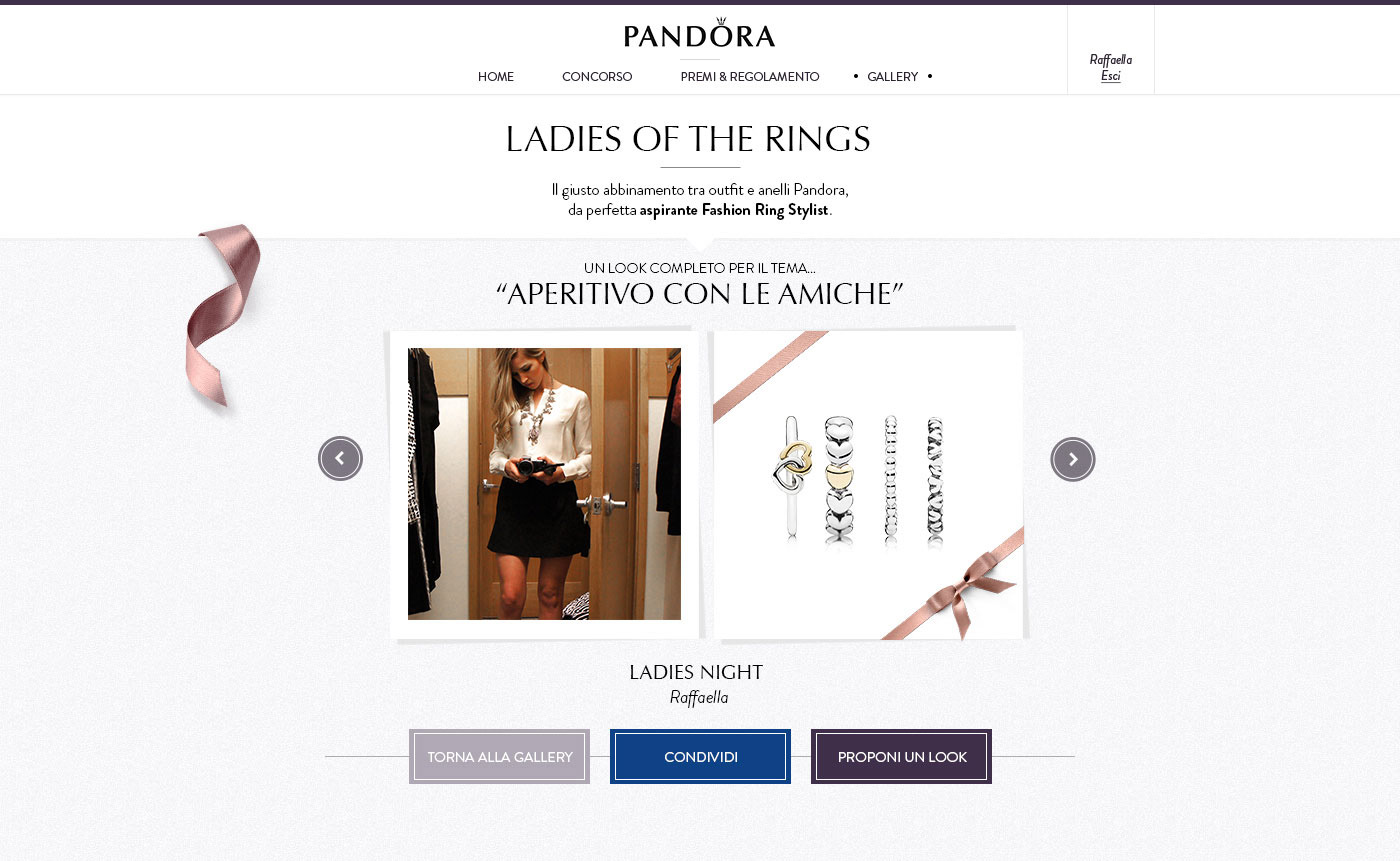 Ladies of the rings.
In one month, more than 5000 unique outfits filled up the gallery. Who will be the Queen?
And the winner is..
Francesca, 20 yr old, blogger, fashion addicted.
A dream comes true for a stylish teenager, celebrated as the official Pandora Testimonial, model and ring stylist, in a unique photoshoot.